The sacred Triduum begins tonight, Holy Thursday, with the Mass of the Lord's Supper and the washing of feet. Megan Crawford and Rick Kenner of Holy Family in Cahokia had planned to process through the Rite of Christian Initiation of Adults — RCIA — together. They had talked about it, and they made their plans.
As many folks know, our plans and God's plans don't always match. Here's what happened.
Rick Kenner had been accompanying his wife, Peggy, and their children to Mass every weekend for the past 20 or so years. He began life as a Baptist, but his wife, Peggy, was a Catholic, and firm in her faith. Since he wanted his family to be united in their faith, he went to church with Peggy, but never joined. Their children went to Catholic schools.
Over the years, people thought Rick was a Catholic, inviting him to join organizations, but he told them he really wasn't a Catholic. He began to think about joining the church.
"I was stunned," Peggy said when Rick told her he wanted to join the church. While she had been praying and inviting Rick over the years, he wasn't ready until recently, right before the cancer diagnosis.
His nephew, Brendan Robbins, was dating Megan Crawford, who had also been thinking about joining the Catholic Church. She had never gone to church at all until she met Brendan and began dating him.
Megan and Rick talked about going through the RCIA together and decided that was their plan.
Of course it didn't work out that way. Along the way, Rick had a kidney transplant and then doctors discovered the esophageal cancer that had metastasized to his lymph nodes and liver. His plans immediately and drastically changed. He began chemotherapy and radiation treatments, and when doctors in the local area were ready to stop, telling him to get his affairs in order, the family went to Houston, Texas for another opinion.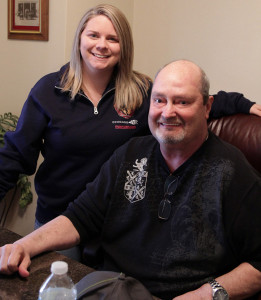 At Holy Family, people were praying for Rick, but he was too sick to participate in the RCIA, so instead of telling him to wait another year, which he might not have, they brought him into the church late last summer under Rites for Particular Circumstances-#3.
Rick said he couldn't believe his good fortune. He was afraid he would die without being baptized and Catholic. "It was a weight lifted off my shoulders," he said.
When he walked into the church on the day he was baptized, he was "smiling. I was happy," he said. His children were his godparents.
Rick said: "This was in my heart. Being with my family is important."
Joining the church is important for Megan Crawford too. She is a volunteer fire fighter in Cahokia, holds down a full time job, and is taking classes to prepare her for nursing school.
Megan knows her life in the church begins at the Easter Vigil. "I'm nervous and excited," she said.
While she wanted to go through RCIA with Rick, now she sees herself as completing the process for both of them.
Brendan has encouraged her throughout the process and accompanied her along the way, but she also sees the people of the parish becoming her family as well. "They take you under their wings, and Kathy (Cafferata) is a great teacher."
While Megan looks forward to her baptism, being able to receive Communion is what she looks forward to.
"I didn't know the commitment I would have to make at the beginning, Megan said, "but I wouldn't trade it for anything."