Father Dennis Frank Voss, 85, of Belleville, Ill, born May 30, 1938, in Germantown, IL, died peacefully Saturday, August 19, 2023, at Freeburg Care Center, Freeburg.
Father Voss attended Germantown Grade School, St. Henry Preparatory Seminary, and St. Mary of the Lake Seminary in Mundelein. He was ordained to the priesthood by Bishop Zuroweste at St. Boniface Church, Germantown, on May 16, 1964. Father Dennis served as associate pastor at St. Peter's Cathedral, Belleville, and St. Albert the Great Catholic Church, Fairview Heights. He also served as pastor of St. Cyril Church, East St. Louis; St. Mary Church, Centralia; St. Stephen Church, Flora; St. Liborius Church, St. Libory; and St. Anthony Church, Lively Grove.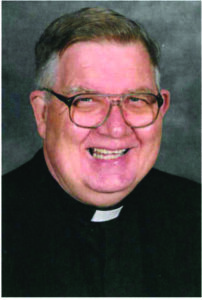 Father Dennis worked in pastoral care as chaplain of St. Elizabeth's Hospital, Belleville, for 18 years. He was involved extensively in grief ministry and was certified by the Association of Death Educators and Counselors as a grief counselor. He received training in Medical Ethics from Saint Louis University and was a member and chairman of the St. Elizabeth Ethics Committee and the Gateway Ethics Network of Southern and Central Illinois and Missouri.
Father Voss was Delegate of the Bishop for Health Affairs for the Belleville Diocese for 16 years and Theological Consultant for the Pro-Life Office. Since February 2000, he had served as Diocesan Moderator for the Council of Catholic Women. He was also a member of the Diocesan Finance Council, the Clergymen's Aid Board, the Personnel Board, the Presbyteral Council, as well as Steering Committee and Liaison for the Diocesan Charismatic Renewal. Father was also involved in ecumenical affairs through the Belleville Area Clergy Association, and Faithful Friar of the Knights of Columbus Assembly 0199. He was very devoted to the Poor Clare Monastery of Our Lady of Mercy and celebrated Mass there weekly.
He was preceded in death by his parents, Lawrence Bernard and Marie Elizabeth, nee Schomaker, Voss; three brothers, Monsignor Bernard L. Voss, Regis Voss, and Linus Voss; and two brothers-in-law, James Jacober and Emerick Yurkovich.
Surviving are two sisters, Betty Ann Jacober of Highland, Ill., and Mary Frances Yurkovich of Westchester, Ill.; two sisters-in-law, Barbara Voss of Germantown, and Sylvia Voss of Huntington Beach, Calif.; and many nieces, nephews, great-nieces, and great-nephews.
In lieu of flowers, memorials may be made to the charity of the donor's choice. Condolences may be expressed to the family online at www.rennerfh.com.
Father Kenneth York, Vicar Forane for the Metro-East Vicariate, received the body of Father Voss at 3 p.m. Thursday, August 24 at St. Peter Cathedral.
A Mass of Christian Burial was celebrated at 10:30 a.m. Friday, August 25, at St. Peter Cathedral, with Bishop Michael McGovern the principal celebrant. Msgr. William Hitpas was the homilist.
A private committal service was held at the family plot in St. Boniface Cemetery in Germantown,.