By LINDA BEHRENS
Cally Mitchell and Cindy Vymola, two teachers from schools in the Diocese of Belleville, have received special recognition awards as classroom teachers in the Those Who Excel program by the Illinois State Board of Education.
Since 1970, the Illinois State Board of Education has sponsored the "Those Who Excel" and "Teacher of the Year" program to honor educators who have made significant contributions to the state's public and nonpublic elementary and secondary schools.
Both teachers were nominated by their schools' principals.
Application materials were evaluated by a selection committee composed of individuals who represent a variety of educational organizations. All awardees will be honored at an annual banquet in the spring.
Cindy Vymola: "We refer to 'What would Jesus do?' all day long"
The pre-kindergarten teacher at Our Lady Queen of Peace Catholic School in Belleville, Cindy Vymola has been a teacher for 25 years – one year at St. Elizabeth in Granite City and 24 years at her current school.
She earned her bachelor's degree in early childhood education from Southern Illinois University Edwardsville. She started as a kindergarten teacher at Our Lady Queen of Peace, then moved up with those students each year for first, second and third grades.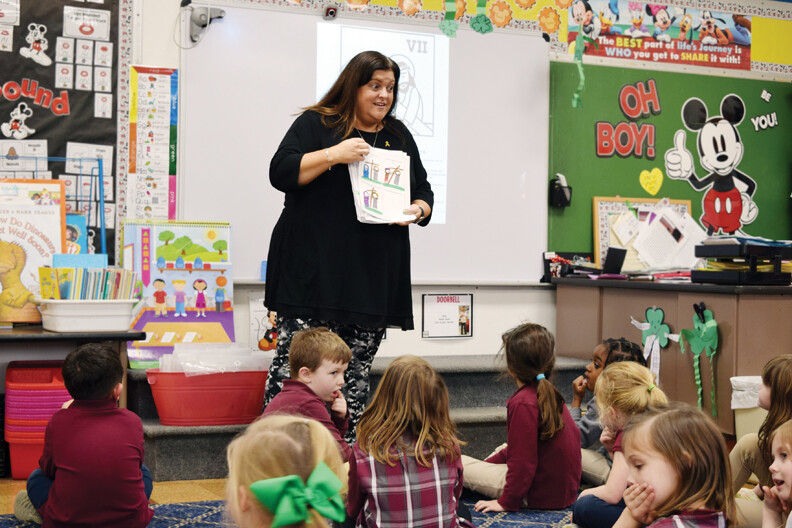 "Eighteen years ago, I accepted the challenge to begin a pre-kindergarten program at our school," Vymola says, who lives in Smithton, with her husband. She has a grown daughter, who teaches at a day care, and a son in college.
"As the need for a pre-kindergarten program arose, the principal, in 2003, reached out to Cindy to take the lead and start our program," says Michelle Tidwell, the current principal at the school.
"Cindy jumped at the chance and spent the year researching, observing, planning, creating and, in 2004, she welcomed our first pre-kindergarten class. Over the past 18 years, Cindy has built our program into a superior pre-kindergarten program."
Vymola likes the welcoming part of teaching – welcoming the students and the parents.
"Pre-kindergarten is a student's first experience at a 'big kid' school," she says.
"I love the openness and honesty of the little kids," she shares. "They have an excitement for everything."
Currently she is teaching the stations of the cross, and the students are "in awe of things like this. They are eager to learn. They don't have prejudices, like when we are older."
Vymola says she remembers how it was when she took her two children to school.
"I want my students' parents to feel comfortable coming to me," she says. "I always want to meet them before the school year begins. I want them to know how I run my classroom and that I am accessible to them."
Vymola adds, "I treat these kids like my own."
Vymola feels that Catholic education is important, especially because the state our society is in right now. The value is worth any sacrifice, she says.
"We refer to 'What would Jesus do?' all day long," she explains. "We bring in faith throughout the day. We think about how to treat others."
There is a prayer wall in her classroom. They pray for the people on the wall at the end of the day before dismissal.
"We pray in our own words. It might be for a student or a parent or someone's spouse who is sick. We also pray for something good," she says.
When asked why she wanted to become a teacher, Vymola says that answer is easy. She credits her first-grade teacher, Mary Lynn Karban, at St. Augustine of Canterbury in Belleville, to whom she still talks.
"Even in first grade, I remember so much from her class. Little positive things stuck with me," this teacher shares. "I want to be the teacher, the person, that people remember."
Cally Mitchell
Cally Mitchell, fifth- through eighth-grade language arts teacher at St. Joseph School in Olney, was nominated for her success in the classroom, her personal life and the St. Joseph parish community.
"Cally's love of reading is evident, as is her determination to ensure her students, even the most reluctant, become readers," says Carol Potter, principal at St. Joseph.
"She learns their interests and helps them find books that pique their curiosity," Potter adds.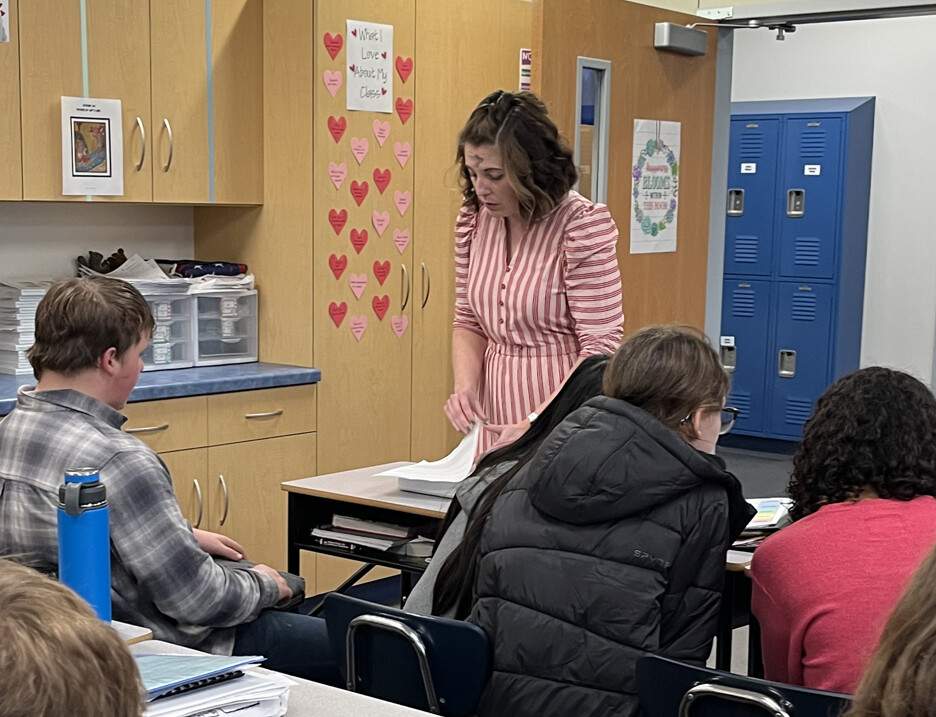 She started a book club this past summer to keep students engaged with reading, meeting with them at the public library and finding interactive educational materials to complement their books.
Mitchell earned her bachelor's in elementary education from Eastern Illinois University in Charleston. She taught at St. Mary in Mt. Carmel for five years and is now in her seventh year at St. Joseph. She is married and has a daughter who is almost 2.
"I became a teacher because I love to read," Mitchell says. "I loved reading as a child and would teach my parents and sister things that I read. I liked teaching them."
A high school teacher encouraged her to pursue education. She thought she would teach third grade, but she was assigned as a student teacher in a fifth-grade language arts class and loved it.
She works with the fifth- through eighth-grade students for four years, enabling her to develop strong relationships with them.
"God placed me where I should be," she says. "I never went back. I love my big kids!"
Six years ago at age 28, during her second year of teaching at St. Joseph, Mitchell was diagnosed with non-Hodgkin's lymphoma.
While in treatment, Mitchell planned for, graded and participated with her class through a dedicated substitute teacher.
"These students gained empathy and an appreciation for faith and courage that cannot be taught in the regular classroom," Potter says.
Upon returning to the classroom, Mitchell was open with students about the side effects of cancer, treatment, and how important teaching was to her health and continued healing.
"Because we were in a Catholic school, we could pray together. We could speak freely," Mitchell shares. "It's a blessing how God works in life."
Mitchell's dedication to learning extends beyond the classroom as evidenced in the field trip to Memphis for eighth graders she planned and executed with another teacher.
The students toured Alex Haley's house, the Civil Rights Museum, the Slave Haven Underground Railroad Museum, and Sister Thea Bowman's grave.
"From curated readings pre-trip to the trip itself to a post-trip grant written to fund a wide variety of materials to expose our rural children to diverse racial, ethnic and religious characters, Cally's enthusiasm benefits her students," Potter adds.
"The best thing about Catholic education is being able to talk about God in everyday life," Mitchell says. "We attend Mass each week as a school family."
She adds, "We are close to our students. We have good relationships with our wonderful families. Our kids are truly loved here."