Deacon's pursuit of social justice leads him to become Global Fellow
By LINDA BEHRENS | Contributor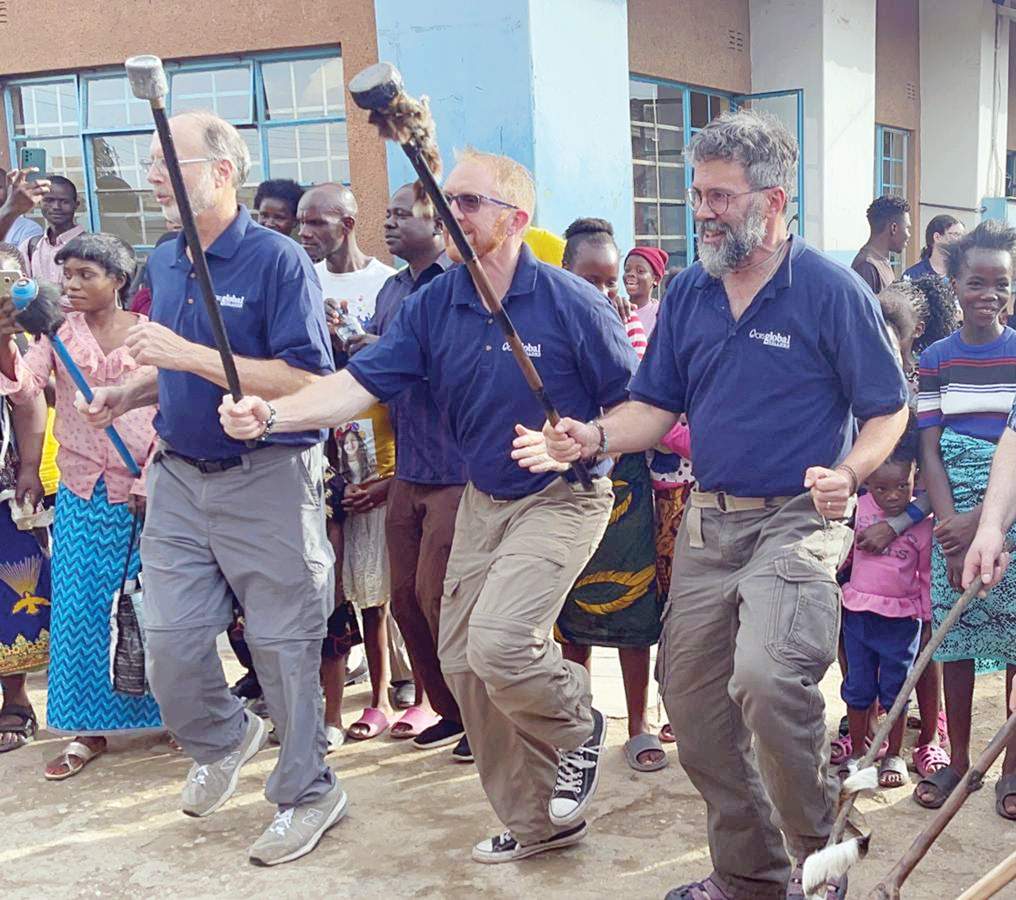 CRS Fellows are shown dancing with the Ngone tribe at St Joseph Parish in Kanyama. Kanyama is a neighborhood near the center of the capital city of Lusaka that suffers from extreme unemployment, poverty, and crime. The CRS Fellows were there to learn about a program where young adults help teens who are struggling with anxiety, depression, and loneliness to reduce their use of drugs and alcohol. After the presentation they were invited to join the tribe in a celebratory dance. Picutred with Deacon John Gomez, far right, are Fr. Fred Thelen from Mich., at left, and Deacon Josh Klickman from NC in the middle.
When Deacon John Gomez preached at St. Clare of Assisi in O'Fallon recently, he spoke from his heart about social justice.
"Jesus gave us the clearest role model of working for justice in society," he said. "He was always concerned with the poor, widowed, sick, children and foreigners. Instead of simply acknowledging their difficulty, He showed them care and compassion."
Deacon Gomez spoke of the prophet Zephaniah, who lived during the early years of King Josiah in the last half of the 7th century BC. Zephaniah called on the people of Judah to atone for their ancestors' sins.
He also shared that he is a Catholic Relief Services (CRS) Global Fellow and how the CRS Rice Bowl campaign benefits people around the world.
Deacon Gomez' pursuit of social justice led him to become a CRS Global Fellow. He is the only one in the Diocese of Belleville.
CRS is the official international aid agency of the U.S. Catholic Church.
"That means CRS is your international aid agency. I work for you," Deacon Gomez says.
CRS has missions in more than 100 countries in South America, Africa, the Middle East, eastern Europe and Asia. CRS must be invited by a country before they will set up a mission in that country. And CRS remains there only as long as they are welcome.
"Both the Vatican and the Episcopal Council of Zambia are aware of and greatly appreciative of the work CRS is doing," Deacon Gomez explains.
Once or twice a year, CRS takes Global Fellows on trips to experience missions. Deacon Gomez visited the missions in Zambia in southern Africa Feb. 2-11 with two CRS staff members and five other Global Fellows, who are priests or deacons.
During their trip, they were received by the Apostolic Nuncio Archbishop Gianfranco Gallone. He spent about 90 minutes with them praising the work of CRS.
"In recognition of the work that CRS is doing in Zambia, all nine bishops on the Zambian Council of Catholic Bishops, which is the equivalent of our U.S. Council of Catholic Bishops, had dinner with us one evening," Deacon Gomez says.
"They praised the work that CRS has done, asked that we share our stories with both our national and Church leaders, and expressed the importance of continuing our work."
He adds they particularly noted that Catholic schools (primary and secondary) are the premier learning institutions in the country. They have a dream of establishing and expanding a Catholic university in Zambia.
The current campaigns for CRS focus on food and nutrition security (nourishing the world's most vulnerable people) and climate change (caring for our one planet, one family).
"Mayas Na Mwana (Mother and Child) is a program that covers the first 1,000 days of a child's life," Deacon Gomez explains. "That includes nine months before birth and two years after."
The Safe Motherhood Action Group (SMAG) are men who volunteer and are trained to go to the villages to make sure mother and developing fetus are being taken care of," he says. "The area they cover, while riding bicycles, is large, about the size of St. Clair County."
They also provide education on good nutrition and hygiene.
The CRS group went to a maternity center, where babies are delivered by a mid-wife, and the mother and child are sent home after six hours, if there are no complications.
In the Chongwe District, the CRS representatives met 13 youth climate champions, in their late teens and early 20s, who are teaching families alternatives to using charcoal to cook in their homes. Forests are burned to make the charcoal.
"Zambia has the unfortunate distinction of suffering the third worst deforestation of any country in the world. We witnessed a program that is replanting hundreds of trees each year," Deacon Gomez says.
"These youth recognize for the future to change, it has to be because of them," he says. "They are so passionate about what they are doing."
Deacon Gomez explains climate change has nearly destroyed the corn crop in Zambia, which is greatly affected by drought. CRS is helping farmers there grow pigeon peas instead – a much more drought tolerant crop that is also nutrient rich.
"CRS sends its Global Fellows on an international trip so when we come home, we can share stories of our experiences when we speak to parishes," Deacon Gomez says.
"Catholic Social Teaching has been the heart of my faith for the last 13 to 15 years," he adds. "It gives me a very concrete way to visualize and express my faith."
He adds, "CRS is our international aid agency. It's an easy connection between my faith and doing everything I can for my brothers and sisters around the world."
Sharing stories of faith
Deacon Gomez had given eight talks in the past two years at diocesan parishes about CRS and being a Global Fellow. On Ash Wednesday, he spoke at St. Anthony on the Lake Parish in Milwaukee.
He will be giving a presentation at 7 p.m. March 7 in the St. Clare of Assisi Fellowship Hall to share his experience in Zambia. He says The Messenger readers are invited to attend.
If parishes are looking for an inspiring Catholic speaker, CRS Global Fellows are available to bring stories of faith to life. There is no cost to host a CRS Global Fellow, and a collection will not be taken.
CRS Global Fellows are trained and vetted to represent CRS in dioceses across the United States. They deliver engaging homilies during weekend liturgies and present at community events.
Their witness describes the good work that the Catholic Church is doing alongside the world's most vulnerable people. They also offer concrete examples of how a parish or community can help CRS respond to the Gospel call to serve their brothers and sisters.
To invite a Global Fellow to speak at a parish, contact Deacon Gomez at [email protected] or use the online form at www.crs.org/get-involved/participate/us-partners/crs-church-engagement/crs-speakers-global-fellows.
How to help
The Rice Bowl campaign during Lent and donations received by CRS are a major source of funding supporting CRS missions in more than 100 countries.
"Making a donation to CRS Rice Bowl helps communities in Zambia, Honduras, the Philippines, Kenya and other countries overcome hunger and malnutrition, poverty and the impacts of climate change," Deacon Gomez says. "Your almsgiving will make a difference for families trying to escape poverty and thrive."
Annually, 75 percent of the Rice Bowl donations support CRS work around the world; 25 percent of gifts stay in each U.S. diocese for hunger and poverty alleviation efforts.
Parishes in the diocese are holding Rice Bowl collections during Lent. Or for more information, visit www.crsricebowl.org.