Sister Ann Frances Gross, ASC, died on January 8, 2023, at 10:00 p.m. at Benedictine Living Community near Belleville, Illinois. Born on November 19, 1934 in Evansville, Illinois, she was baptized Anna Lee and was the ninth of ten children in the family of Michael and Martha (Bleem) Gross. One child died in infancy. Four daughters joined the ASC community in Ruma, Illinois: Sisters Mildred, Marina, and Mary Martin. Sister Ann Frances made her first profession on July 1, 1954 and her final vows on July 1, 1959. She was 88 years old and had been professed for 68 years.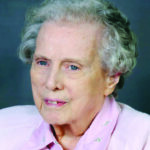 During her 46 years in the nursing profession, Sister Ann Frances played an essential role in several projects which increased the services offered by the three hospitals where she worked. At St. Vincent's in Taylorville she supervised the renovation of the emergency room; she also played a vital role in the education and training of operating room technicians and assisted them in reaching certification. At St. Clement's in Red Bud, she assisted in setting up orthopedic, eye, and neurological clinics. At St. Joseph's in Murphysboro, she set up the obstetric department in the newly-opened hospital. She felt called to nurse the whole person back to health and championed for the best care for her patients.
Qualities that people found admirable in Sister Ann Frances were her love of children, her positive attitude, and her strong sense of responsibility. She accepted with valor the blindness that came in her later years.
Sister Ann Frances is survived by Sister Mildred Gross, ASC, her sister-in-law Loretta, wife of her brother Francis, many nieces and nephews and members of the ASC community.
She was preceded in death by her parents, her brothers Paul (Margaret), Leo (Ethel), Milton (Dorothy), Francis, and a boy who died at birth; her sisters Florence (Raymond) Bussman, Sister Marina, ASC, and Sister Mary Martin, ASC.