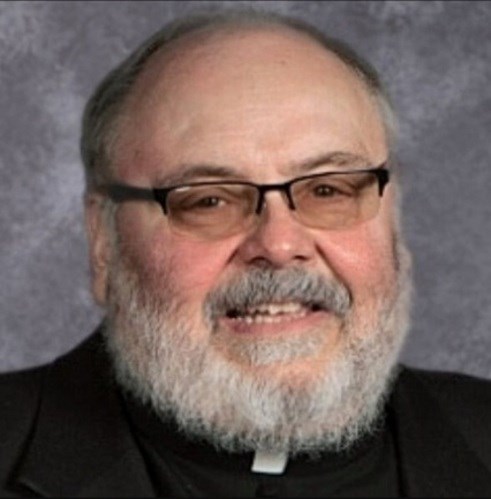 New Athens, Illinois – The Reverend Gary Paul Gummersheimer, 71, of Murphysboro, IL, formerly of New Athens, IL, passed away Friday evening January 6, 2023 at Memorial Hospital in Murphysboro, IL.

He was born on September 22, 1951. He was ordained to the priesthood of Jesus Christ by The Most Reverend William M. Cosgrove on June 1, 1979.

Father Gummersheimer was generous in his service. He served as an Associate Pastor at St. Dominic in Breese, IL and the Cathedral of St. Peter. He taught several years at Althoff Catholic High School. He was the Director of the Newman Center at SIU-C and he served as pastor of several parishes, most notably at St. Andrew in Murphysboro, IL where he served from 1997 until his retirement. He was also active in Engaged Encounter, the Knights of Columbus and the Sons of the American Legion.
Father Gummersheimer is preceded in death by his parents, Albert F. and Arlene (nee Steinheimer) Gummersheimer.

The Reverend Monsignor Dennis R. Schaefer, Vicar Forane for the West Vicariate, will receive the body of Father Gummersheimer at 4:00 PM on Wednesday, January 11, 2023 at St. Andrew Catholic Church, 724 Mulberry Street, Murphysboro, IL and visitation will continue until 7 p.m.

On Thursday January 12, 2023, there will be visitation in the morning prior to the Liturgy of Christian Burial, from 10:00 AM to 11:00 AM at St. Agatha Catholic Church, 205 S. Market Street, New Athens, IL.

The Liturgy of Christian Burial will be celebrated at 11:00 AM on Thursday, January 12, 2023 at St. Agatha Church in New Athens, IL. The Most Reverend Michael McGovern will be the principal celebrant and the Reverend Robert Flannery will be the homilist. A luncheon will be served in the parish center immediately after the interment in the parish hall. Burial will follow in St. Agatha Cemetery.
Heil-Schuessler Funeral Home in New Athens, IL is in charge of arrangements.